By CONOR NICHOLL
"Fundamentally sound basketball players"
Hugoton head girls' coach Emmanuel Adigun is uniquely positioned in Kansas high school basketball. The 6-foot-6 Adigun played collegiately at University of Texas-Arlington. He has served as head coach at Pratt and Hugoton. The Eagles are 3A final four and 3A state runner-up the last two winters. Adigun has served multiple years as a coach for Western Kansas Elite, a well-known travel basketball program.
Plus, Adigun has three seniors who have signed to play at the Division I or II level, rare for any school, especially in 3A. Mikyn Hamlin, currently out with a knee injury, has signed to Division I Wyoming. Gianna Vos has inked to Division II Florida Southern.
Adigun's daughter, Summya, has signed with Division II Northwestern Oklahoma State. The Hugoton trio represent multiple trends for three girls' sports – basketball, wrestling and volleyball.
First, far more Kansas girls' basketball players are signing to play in college than Kansas boys. Secondly, Kansan girls are going to college programs that have not had female athletes from the Sunflower State in many years – or ever.
It's possible that the Class of 2023 could have the most Division I signings in girls' basketball and volleyball in recent history. As of Nov. 29, well-respected Prep Girls Hoops' scout Robert Kelly noted to SIK that 22 Kansas girls are committed to play college basketball, including the Hugoton trio.
Nine are Division I commits. Eight are Division II. That includes Derby's Maryn Archer, who is enrolling as a gray shirt at Arkansas, and Baldwin's Karly Neufeld, expected to play JV at Washburn.
Other Division I signees include: Phillipsburg's Taryn Sides (Kansas State), Nickerson's Ava Jones (Iowa), S'Mya Nichols (Kansas), Bonner Springs' Mariyah Noel (Ole Miss), Cimarron's McKayla Miller (Creighton), Blue Valley West's Lily Ba (Tulane) and Derby's Addy Brown (Iowa State).
In addition to Adigun and Vos, Division II signees feature: Goodland's Talexa Weeter (Fort Hays), Maize South's Avery Lowe (Nebraska-Kearney), Clearwater's Carli Carlson (Newman) and Douglass' Rebecca Hajdukovich (Washburn).
On Tuesday, Lowe delivered 9 of 14 shooting for 25 points, along with seven rebounds, four steals and four blocks in a 46-28 win against rival Maize. Weeter scored 40 points in the Topside Tipoff championship game last Saturday and had 92 in the three-game tournament. Both were tournament records. The single game total broke the mark of 36 held by her mom.
Last year, at least 99 Kansas high school girls signed to play college basketball, including 12 Division I commits, per Kelly's research. While the exact number of Class of 2022 Kansas high school boys' basketball signees is unclear, two sources have the number between 20-30 – certainly far less than on the girls' side.
The Kansas Class of 2021 had 100 girls sign to play college basketball, including seven Division I commitments. The Class of 2020 had 118 girls sign to play college basketball, including nine Division I commitments, per Kelly.
High schools from all classes and Kansas regions are having girls sign to play college basketball. Programs like Wheat State Elite, Game Ball, Next Level Eclipse, and Phenom have helped with development and exposure.
"I think the (women's) game is growing," Adigun said. "And I think what's starting to happen on the girls' side is that on the boys' side, this is just my opinion, but I think collegiately on the boys' side, they are looking for specifics: great shooters, high-level athletics, genetic differences,"
"Whereas as girls, they are just looking for good basketball, fundamentally sound basketball players," he added. "And in my opinion, I just think there's a lot more fundamentally sound girls' basketball players that can go in and play different roles whereas I think at the boys' level there are looking for like special pieces to fit their style of play, to fit their genetic makeup."
"A lot of studs"
While November is saturated with the high school football playoffs – and with football recruiting now in full swing – SIK wanted to pause and recognize the girls' signees and trends for basketball, wrestling and volleyball.
Washburn Rural's Brooklyn DeLeye, a finalist for MaxPreps national player of the year, is headed to Kentucky volleyball. St. Thomas Aquinas left-handed hitter Betsy Goodenow, the 5A Player of the Year, has signed with Yale volleyball. She is the first Kansan to sign with Yale volleyball in more than 15 years. Yale has won four Ivy League titles in the last five years and had its most wins since 1996 this season.
"I talked to a lot of schools, and I had my dream school asking, and it wasn't Yale," Goodenow told SIK in late fall. "But I think something that I needed to hear – and everyone going through recruiting is – you need to find your right fit. And Yale is the right fit for me, and it's like 'How do you turn down Yale? How do you turn down like really good volleyball, and really good academics?"
St. Thomas Aquinas coach Sarah Cretors was a '96 Saints graduate and played on STA's first title team in '95. She has coached at Aquinas for 25 years, a program that has won nine state titles. Per Cretors, Goodenow is the first Aquinas volleyball player to sign to an Ivy League school.
"Tons of people that I have coached – she is just extremely smart," Cretors said. "She just understands the game. She has an extremely quick arm swing, and that left hand just makes her a lethal weapon."
Many of the top girl athletes signed last month with a few who committed in early December.
Multiple others, notably Stanton County runner Chesney Peterson (Tennessee), Andale's McKenzie Fairchild (Texas A&M track), Basehor-Linwood's Taylor Cruse (Ohio State softball), B-L's Mila Seaton (Wichita State softball) and Newton's Tegan Livesay (Southeast Missouri softball) signed for Division I in another sport, too.
Peterson, the all-classes state meet record holder in the 1,600-meter run, is the first Kansan to sign with Tennessee cross country and track in at least eight years.
Plus, the Class of 2024 could even stronger.
St. James libero Mya Bolton has committed to Michigan State volleyball. Maize South's Gracie Morrow has committed to Wichita State volleyball. Well-known Olathe Northwest's Sky Pierce is the nation's top volleyball recruit for the Class of 2024 and has committed to Nebraska. Olathe Heritage Christian's Rachel Van Gorp and Cy Rae Campbell have committed to Iowa State and Wake Forest, respectively.
Plus, Blue Valley's Ryan McAleer (Purdue), Blue Valley North's Janelle Green (Cincinnati), Maize South's Camdyn Stucky (Tennessee), St. James' Julia Headley (Colgate) and Olathe Northwest's Jillian Huckabey (Florida International) all return for 2023 after Division I commitments.
"A lot of the studs are still around," Cretors said. "I mean they are young, so there's just a lot of talent."
"There's a lot of good basketball players in Kansas"
Hamlin is the first Kansan to sign with Wyoming out of high school since 2016-17. Vos will be the first Kansan to play for Florida Southern since at least '14-15. Northwestern Oklahoma State (NWOSU) had three total Kansans from '14-15 to '19-20 – all from 5/6A schools.
"Syracuse used to look for the 6-8 long guys to be in their zone," Adigun said. "I think at the boys' level, that's what happens. I also just think, I think people are starting to notice there's a lot of good basketball players in Kansas, and now the kids in the '22 class kind of opened those doors."
However, in '20-21, NWOSU had sisters Scout and Josena Frame from 1A Kinsley. Last year, Scout Frame was on the roster. This season, NWOSU has three: Scout Frame and two freshmen: Topeka High's Talayna Thomas (6A) and Wellington's Ali Zeka (4A). Both the Frame sisters have been starters. As a true freshman, Thomas is starting and averaging 30 minutes a game.
"There is some kids out there playing as freshmen right now at the college level, and I think it's just a representation of how good the game in Kansas is on the girls' basketball side," coach Adigun said.
Girls' wrestling continues to grow
The current girls' wrestling seniors were freshmen when KSHSAA sanctioned the sport. The sport's growth has yielded more colleges that have women's wrestling. Two are NCAA Division II Chadron State (Neb.) College and Lindenwood (Mo.) University.
Chadron became the first NCAA Nebraska school to add women's wrestling. CS officially announced the sport in June 2021.
Last year, Chadron State picked up Lakin's Isabell Ortiz and Hoxie's Marissa Porsch, both state champions. Ortiz has already moved into the starting lineup.
Washburn Rural's Addison Broxterman has started since her freshman year and helped the Junior Blues to first, first and second team finishes. Earlier this month, she became the tenth Kansas girl to collect 100 career wins. She has reached 100 total pins, too. Broxterman signed with Chadron State.
Columbus' senior Addison Saporito committed to Ottawa University.
Mulvane's Kammie Schanz has committed to Iowa Central Community College.
Council Grove's Jolie Ziegler is already at Baker University.
Gardner-Edgerton's Shelby Davis is headed to Grand View (Ia.) wrestling.
Olathe West's Makayla Rivera has committed to Division II Lindenwood (Mo.), located just outside of St. Louis. Last year marked Lindenwood's first full season of NCAA women's wrestling.
Schanz, Ziegler and Rivera are all former state champions.
Volleyball signings up; inks Division I players across the country; Coach Lamb with strong Wichita State connections

Multiple volleyball clubs have formed the foundation for many Kansas high school players to sign for college. In particularly, four stand out: Mavs, Power and Dynasty in Kansas City, and Shockwave in the Wichita area. (Mavs, Power, and Dynasty do include some Missouri players, too).
Power has published its Signing Day data since '04, Mavs since '08, Dynasty since '14.
The Class of 2023 could end up being the most volleyball signings from the Mavs program.
Mavs never had more than 10 signees from '08-18. Since then, the Mavs have 20, 20, 23, 20 and currently 21 signees.
Dynasty has six signees in 2014, followed by six, 15, 11, nine, 23, eight, 18, and 13 last year.
From '04-14, Power averaged 5.7 signees a year and never had more than 10, which occurred in one season.
Since then, Power has five, eight, nine, 10, 10, 10, 10, and 10 college signees. Class of 2023 Mavs signees included Goodenow, Aquinas libero Reagan Anderson (Wichita State) and Lawrence Free State's Sawyer Thomsen (Cal). Goodenow is top-10 all time in career blocks, single season kills and single season attacks at tradition-rich Aquinas.
"She jumps so well," St. James Academy coach Nancy Dorsey said of Goodenow. "She's a bouncy kid. She jumps high, and she is super athletic. You can't teach athlete – and she has athleticism that not a lot of kids in the state have."
On the Dynasty side, Washburn Rural's Jada Ingram signed with Division I Nevada-Las Vegas. Blue Valley Northwest libero Alayna Pearson, who played for KC Power, has signed with Texas A&M.
Among others, Olathe Northwest's Ava Testrake and Olathe South's Jaya Johnson have both signed with Creighton.
"A lot of the club volleyball is centered in Kansas City," Goodenow said. "And Johnson County and Wyandotte and everything. And I think that really helps foster competition, and I also think the (Eastern Kansas League) just has a history of winning, and I think that everyone that comes into a school no matter if it's St. James or Aquinas or Miege or any of the Blue Valleys, always has an expectation to win, no matter where you are at – no matter what sport you are in. And so everyone wants to feed into that and get that tradition going."
WSU connection paying off
Chris Lamb has served as Wichita State's well-known volleyball coach for 23 years. Many area coaches, including Andover Central's Kayla Weidert and Cheney's Sara Walkup, played for him.
Anderson first impressed Cretors with her ball control at an Aquinas camp as a youngster. Lamb saw Anderson early, too. Now 5-foot-3, Anderson was second team all-state libero. She finished top-six in Aquinas history in passing attempts, digs and serves made. STA teammate Ashlyn Reeves (6-foot-3) is headed to Fort Hays.
"They have been recruiting me since I was 12, so it's always felt like home," Anderson said. "And Lambo was the first coach to ever believe in me – a little 4-(foot)-10, 12-year-old. So it's always felt like home. The coaching staff, the players, they are all amazing."
Andover Central 6-foot-2 senior middle blocker Allie Paulsen also knew Lamb from the club scene and signed with the Shockers.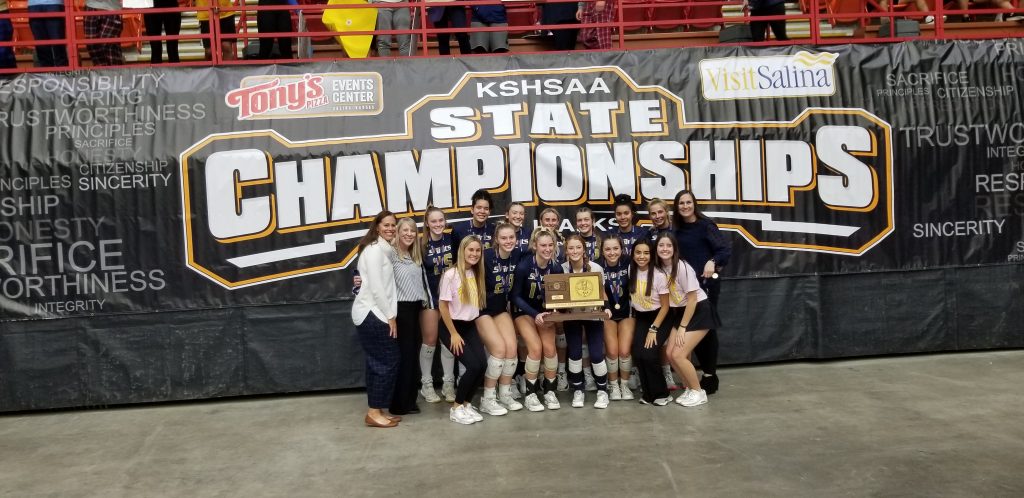 Veteran players from central and western Kansas committing
Four girl athletes from the central and western part of Kansas have recently committed, too. On Nov. 9, McPherson's Chloe Clevenger signed for basketball with junior college power Johnson County. Clevenger has been all-state in cross country, basketball and track multiple times. She spent two years at Doniphan West and the last two at McPherson. Clevenger is a top player for McPherson, currently ranked fourth in 4A.
A day later, Hays High's Carly Lang signed with Garden City CC for volleyball. Lang is a four-year starter in volleyball and basketball. She has helped the Indians to a current No. 10 ranking in 5A basketball.
On Nov. 30, Hutchinson's Josie McLean committed to Barton volleyball. McLean spent three years at Nickerson and this season at Hutchinson. She cleared 2,000 career assists and helped Hutchinson to its best volleyball finish since the mid-90s.
On Dec. 12, Augusta's multi-sport athlete Avery Williams committed to Hutchinson CC volleyball.
Lang told SIK earlier this month she was impressed with GCCC head volleyball coach Patrick Hiltz. Garden City was her first visit. Even when she visited other places, her mind kept going back to GC. She attended a couple of Broncbuster matches, too.
"Just the way he came up to me and wanted me," Lang told SIK earlier this month. "He is super invested in his players and his program."